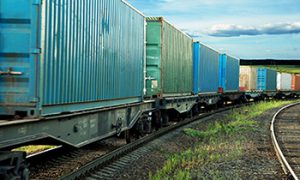 Our company provides export, import and transit cargo traffic in railcars, as well as rented, separate sea and railway containers of 20' and 40' feet:
Competitive rates and speed;
Cooperation with railways and railway departments;
Independent expert services in the loading dock and railway stations;
Control and monitoring of cargo movement;
Cargo inspection during the border crossing;
Haulage payment in the territories of the CIS, Central Asia and the Baltic States;
Dangerous cargo forwarding;
Project cargo forwarding;
Export and import customs clearance;
Cargo insurance;
Warehousing services.
YOU CAN RECEIVE MANY ADVANTAGES:
Discounts of railway rates;
Railcar;
Volume of a railcar — 138 m³ (dimensions of a railcar: 15,7m x 2,77m x 2,8m);
Carrying capacity of a railcar — 68 tons;
Two-winged railcars.
We offer you flexible rates for export and import traffic in Europe, the CIS and the Central Asia countries.
The customs warehouse with the access roads within the territory lets us organize loading, unloading and storage services, the cargo forwarding and customs clearance services.